Great day for Bunker Hill Day Parade
June 17, 2012, (Boston Globe)
By Evan Allen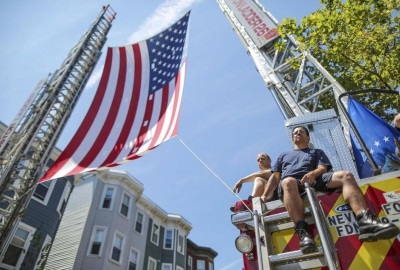 Blue skies greeted parade-goers in Charlestown on Sunday, as hundreds turned out for the annual Battle of Bunker Hill parade.
"It was a great day, there was a lot of sun," said Don Haska, a parade coordinator and the secretary of the Bunker Hill Monument Association. "There were more people out on the street this year than there have been in the past. I got sunburned, though."
The parade ran nearly 2 miles around Charlestown, beginning at Hayes Square and circling the Bunker Hill Monument.
It commemorates the Battle of Bunker Hill, which took place on June 17, 1775, during the Revolutionary War.
Marchers included members of the military, Haska said, as well as military reenactment groups.
"
We try to bring past history and present history together," said Haska. "If you don't understand the past, the present doesn't make much sense."
Haska described the Battle of Bunker Hill as one of the most significant battles in American history.
Though the British won the battle, their well-trained soldiers took a major hit from scrappy militia forces.
"We had the British best and the common American militia," Haska said. "They stopped the best."
Evan Allen can be reached at evan.allen@globe.com