SAR Outstanding JROTC Cadet Award
This award for high-school juniors is based the principle of "citizen soldier" as exemplified by the American Revolution's Minuteman. The process of selection begins with the JROTC Unit's Senior Military Instructor (SMI). Qualified cadets are then selected through Chapter, State Society, and National Society levels of the contest competition. Selection criteria include demonstrated leadership potential, military bearing, and scholastic achievement. Each cadet must submit an original essay on a topic designated by the ROTC/JROTC & Services Academy Liaison Committee.
Midshipman 2/C William Byrne, Holy Cross College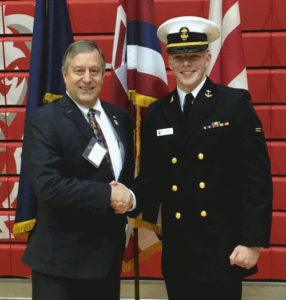 SAR J/ROTC Award Certificate
The Massachusetts Society is proud to recognize outstanding cadets for their high degree of merit, leadership qualities, military bearing, and general excellence. In addition to certificates and medals for cadets in high schools and colleges, we offer a National Recognition Program where JROTC cadets compete at chapter, state, and national levels for cash awards and scholarships. Please complete the form below to recognize your cadets.
"*" indicates required fields