Revolutionary War Images – Maureen Taylor at SAR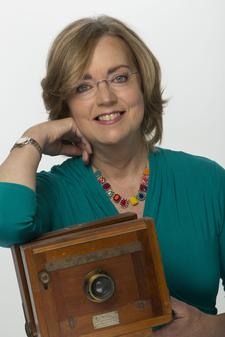 Internationally known photo identification expert Maureen Taylor addressed SAR members and conduct an education program for area students in March during her visit to Louisville, Kentucky. Taylor has been featured in The Wall Street Journal, NBC's Today Show, ABC's The View, and NPR. She travels extensively giving presentations on photo identification, photo preservation, and family history. On Friday, March 11, at the SAR Leadership banquet she shared with SAR members her latest book The Last Muster-Images of the Revolutionary War Generation. This collection of rare nineteenth-century photographic images with daguerreotypes, ambrotypes, and carte des visite paper photographs of the Revolutionary War generation.
"I wondered if it was possible to use photographic and documentary evidence to re-create the first generation of Americans – those men, women, and children bound together by having lived during the Revolutionary War…" remarked Maureen Taylor. Taylor succeeds in updating and supplementing research last collected and published over a century ago. The collection of images assigns faces to the war and brings to life the stories of our founding fathers and mothers. Exhaustive primary source research is required to date and identify each image. Through Taylor's work as a curator and collector, she investigates the stories and genealogy of each subject.
Signed copies of The Last Muster were made available for $45.00 during the weekend. Advance orders can be placed by contacting Colleen Wilson, Acting Director of The Center for Advancing America's Heritage at cwilson@sar.org.
Maureen Taylor was at The Center for Advancing America's Heritage as the first educational speaker for 2011. Her dynamic, interactive seminars on photographs, genealogy, and history have received outstanding reviews from the professional community. She also conducts programs for high school and college students. The program's objectives focus on the visual arts, photography, and conservation, as well as the history of our historical time period.
"It is the intention of The Center to develop and implement a series of speakers who will address a diverse audience of ages, community organizations, and educational levels that demonstrate our outreach commitment in support of civic education," stated Acting Director for The Center for Advancing America's Heritage, Colleen Wilson. "It is important to educate our communities about the role history plays in each element of our heritage whether it be family, art, literacy, graphic arts, social and cultural fields."
Taylor is busy working on a second volume of The Last Muster. She encourages SAR members to bring images of their Revolutionary War ancestor with them to her events.
According to Taylor, searching for additional images of the Revolutionary War generation means considering both photographic method and the subjects depicted. Mirror-like daguerreotypes were introduced to America in 1839 and were common into the 1860s. When viewing a daguerreotype, a person must hold the photo at an angle to see their images. Invented in 1854, ambrotypes were also placed in cases because of their fragility. These were glass images backed with dark material. A third type of image was the tintype or ferrotype. These images were produced on thin sheets of iron by a process invented in 1856. Paper prints were commonplace by 1859.
Subjects to consider are patriots, soldiers, loyalist adults, wives, and widows. An adult during the American Revolution would have been at least 80 years old by the advent of photography. Wives and widows could be in images taken anywhere from 1840 to the early 1900s. The last surviving widow of a Revolutionary War soldier died in 1906. If your image fits these criteria, it might depict a member of the Revolutionary War generation.
The SAR presentation along with The Center for Advancing America's Heritage education program for high school and university students is made possible through the generous support of the George Washington Endowment Fund.