Revolutionary War Patriot To Be Honored In Conway, MA
Edward Thayer (1764-1827) to Receive New Gravestone August 20th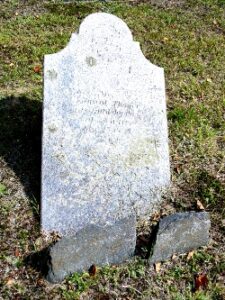 When in the early 1990s Mr. Verne L. Thayer of Milford, MA, began his quest to join the Massachusetts Society, Sons of the American Revolution (MASSAR), he never imagined it would take almost twenty years to complete. Life's challenges coupled with difficulties in genealogical research made the journey tiresome and lengthy. But on June 19, 2010, in Concord, MA, Verne's dream was realized when he was sworn in as a new MASSAR compatriot by Mr. William E. Battles III, then the society's president.
Verne's membership was facilitated by his descent from Israel Trow (1737-1825), his fourth great-grandfather. With research on Trow squared away, Verne began work on a supplemental line descending from Edward Thayer (1764-1827), his third great-grandfather. When Edward was a mere lad of sixteen, he served the patriot cause for three months in Sheppard's Company, a local militia unit. On August 8, 1781, after his discharge from Sheppard, he traveled to Wrentham, MA, and enlisted in Captain John Lincoln's Company, Colonel Joseph Webb's Regiment, one of four regiments raised under the Resolve of June 30, 1781, as reinforcements for the Continental Army. After rendering 114 days service, he was discharged on November 29. Following the war, Edward and his first wife, Rebecca Hack (1766-1803), moved to Conway, MA, where they made the town their life-long home and birthplace of their eight children. In 1804, he married his second wife, Lena Pratt, who bore him three additional children.
In September 2009, on a research trip to North Shirkshire Cemetery in Conway, Verne located Edward's grave, marked by a weather-beaten, cracked, and chipped headstone, devoid of any inscription to note his revolutionary service, with the name "Edward Thayer" barely visible. It was a moment of mixed emotions for Verne: exhilaration at standing at the grave of his patriot ancestor, disappointment at the sad condition of Edward's austere monument. It was at that point that Verne embarked on a quest to replace his ancestor's gravestone with one that would properly honor his military service.
Verne consulted the Veterans' Administration (VA) and learned that it is possible to obtain a military gravestone for Edward provided his existing monument is removed. On that positive note, Verne scheduled a meeting on Monday, March 14, with Conway's town fathers to seek their blessing. Municipal approval was granted; and an application packet was filed with the VA formally requesting a standard, government-issued, upright, marble gravestone inscribed with a Christian cross and the following text:
Private Edward Thayer
1764-1827
Captain John Lincoln's Company
Colonel Joseph Webb's Regiment
Continental Army
Sheppard's Company
Negus and Taylor of Greenfield, MA, offered to perform the stone's installation pro bono. A dedication ceremony is scheduled to be held at North Shirkshire Cemetery, Conway, MA, at 10:00 A.M. on Saturday, August 20, 2011. A brief speech will be delivered, followed by military honors rendered by MASSAR's color guard. In addition to Edward's descendants, civic leaders, members of the press, residents. This is a public event – everyone is welcome and encouraged to attend.