SAR Memorial Service at Congress 2016
SAR Memorial Service
SAR Magazine, Vol. 111 No. 1
July 10th, 2016
Above: Garrett Lear, First Vice President and Chaplin of the Massachusetts Society.
The 126th Annual Congress Memorial Service was held Sunday, July 10, at the Old South Church in Boston. It was led by two-time Chaplain General The Rev. Dr. James C. Taylor, who offered the invocation following the processional by Rev. Dr. John C. Wakefield and Rev. Dr. Randy D. Moody, who also served two terms as Chaplain General.
Taylor led a memorial to the fallen compatriots, who totaled 600 in 2015, including members of 47 of SAR's 58 societies. President General (2014-2015) Lindsey C. Brock offered the Old Testament reading, followed by a psalm read by President General (2010-2011) J. David Sympson and a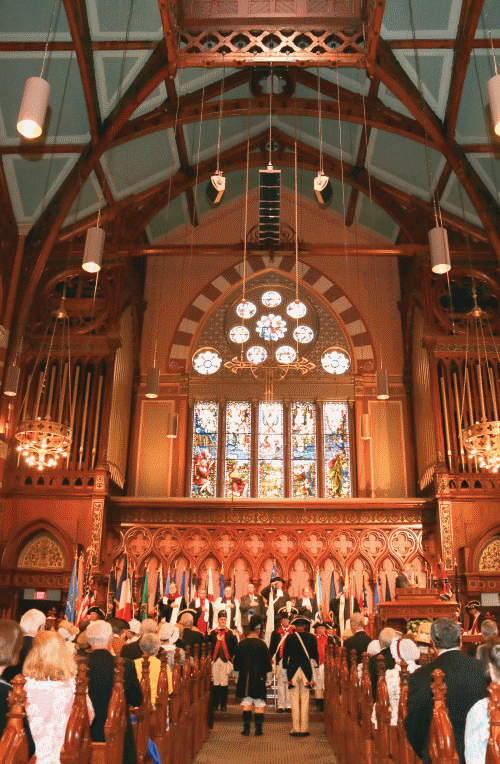 New Testament reading by President General (2009-2010) Edward F. Butler. President General (2013-2014) Joseph W. Dooley again delivered the Gospel Reading (Matthew 25: 31-46). Following Taylor's Memorial Message, The Right Rev. Louis V. Carlson performed the Memorial Litany. "They will always live in our memory, as they continue to live in a world not limited by time and space," read Carlson, who is now serving his second term as Chaplain General.
Left: Established in 1669, the Old South Church is one of the oldest religious communities in the United States. Organized by dissenters from Boston's First Church, it was known as the Third Church (to distinguish it from the First and Second Congregational Churches in the city). Members of the congregation have included Samuel Adams, William Dawes and Benjamin Franklin. In 1773, Adams gave the signals from the Old South Meeting House for the "war whoops" that started the Boston Tea Party.