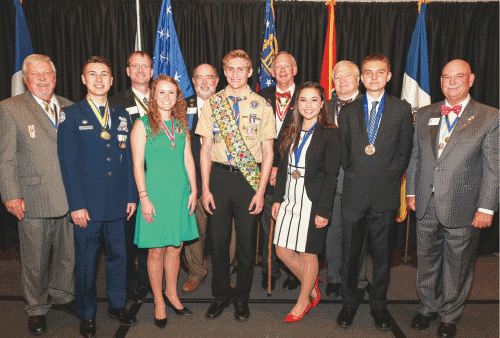 More than 600 people attended the Youth Awards Luncheon on Monday. Among the major award winners were, from left, Outstanding JROTC Cadet Award winner Conner Goodrich of Edmond, Oklahoma; Erin Moore of the Children of the American Revolution; Eagle Scout Award winner Joseph M. Jaeger of Illinois; Rumbaugh Oration winner Taryn Murphy of California; Knight Essay Contest winner Cameron Chyla of Waukesha, Wisconsin. The winners were joined by President General J. Michael Tomme, far right, and contest chairmen, includin, Ronald J. Baker, Edward P. Rigel Sr., Darrin M. Schmidt, James M. Lindley, John H. Franklin Jr. and David G. Jessel.
SAR Magazine
Summer 2017 Vol. 112 No. 1
More than 600 people attended Monday's Youth Awards Luncheon at Congress 2017 in Knoxville, by far the most popular event at any given Congress. Held at the Convention Center, just across Clinch Avenue, the luncheon was led by emcee T. "Rex" Legler of Indiana.
The California Society was the big winner, taking home the top prize in the Americanism Elementary School Poster Contest, the Sgt. Moses Adams Memorial Middle School Brochure Contest and the prestigious Joseph S. Rumbaugh Historical Orations Contest.
Taryn Murphy, an 18-year-old recent high school graduate from Temecula, California, won the Rumbaugh Oration over 19 other state finalists with her speech entitled "Why our right to privacy insures national security."
Murphy wowed the judges with her eloquent defense of the Fourth Amendment and her polished speaking skills. She received a standing ovation and was awarded $5,000. Murphy is a nationally ranked public speaker. She will attend Hillsdale College in Michigan. Isaiah Paik of Ohio was second and Rachel Mallett of Florida was third from the record field of contestants, including the Washington State SAR with a contestant for the first time in 60 years.
Kailee Mark, an eighth-grader from Fontana, California, won the Sgt. Moses Adams Brochure contest. Kailee's brochure was on the Declaration of Independence. This national contest is for eighth- grade students, who must produce a brochure on one of our nation's founding documents. Second and third place awards went to students from Ohio and Georgia, respectively.
Vincent T. Von Tungeln, a fifth-grade student Lancaster, California, won the poster contest. His poster was on John Sevier and the Overmountain Men, who helped win the Battle of Kings Mountain, a turning point in the Revolutionary War. Alabama's representative won second place and the Texas winner took third.
The largest monetary award went to Joseph M. Jaeger, an Eagle Scout from Illinois. Edward P. Rigel Sr., the national chairman of the Arthur M. and Berdena King Eagle Scout Award, presented Jaeger, who has earned 141 merit badges, a check for $10,000 toward his education at the University of Illinois this fall.
Cameron Chyla of Waukesha High School in Wisconsin won the George S. and Stella Knight Essay Contest for his entry, "The Uncle of the Revoluton," which focused on Patriot John Dickinson. Chyla will receive $5,000 toward his studies at the University of Chicago.
AFJROTC Cadet/Major Conner Goodrich was the winner of the Outstanding JROTC Cadet Award. Goodrich is a recent graduate of Edmond North High School in Edmond, Oklahoma.
Lauren Goeppert a social studies teacher at Bak Middle School of the Arts in West Palm Beach, Florida, was the winner of the Dr. Tom and Betty Lawrence American History Teacher Award. Goeppert will receive her choice of a professional educational opportunity at a national seminar, including the Freedoms Foundation Summer Teacher Graduate Workshop at Valley Forge, Pennsylvania; the Colonial Williamsburg Summer Teacher Workshop in Williamsburg, Virginia; the Jefferson Symposium at the University of Virginia in Charlottesville, Virginia; or the SAR Annual Conference on the American Revolution (all valued at $1,400 including tuition, room and board, and transportation).